CB radio show and tell
Für ALLE die den CB Funk lieben und schon sehr lange betreiben ist die Facebook Gruppe " CB radio show and tell " ein muss.
Hier werden Geräte, Shacks, Mobileinbauten und vieles mehr gezeigt. Alleine die alten Geräte die dort zu sehen sind, sind ein Besuch in der Gruppe wert.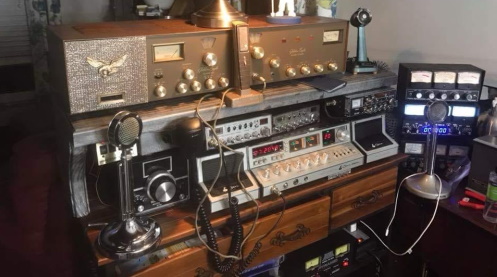 Hier mal die englische Gruppeninfo:
Welcome new Members this group is about our hobby and I just want you all to feel free to share your equipment. We all look to help each other here. If there is something your having a hard time finding or would like to buy, sell or trade this is a great group to be in.
As an administrator here are a few things that won't be tolerated and will get you booted from this group.
No Scammers, No Confrontation, If you have a problem with a certain Individuals take it elsewhere the drama will not be tolorated here.
Please keep the language appropriate as I am aware we do have some young operators that are new to our hobby on this page.
Please have fun showing off your equipment and any questions you have for our Administrator's please feel free to contact us.
Have fun, enjoy our topics and if you have a topic to talk about please let us know.
As of now the Administrator's are : Jerry Miller our Founder of the group, Jimmy Fiedler, Patti Heath, Mark A Kluczynski, Ben Rohling, Rick Raider, and myself Mario Tagliaferri
Welcome to our wonderful group, God bless and have fun!
Foto: CB radio show and tell