Indonesia Earthquakes and Tsunami – Emergency Frequency
The Indonesian National Society ORARI immediately established an Emergency Net on 7.110 MHz and also activated the Lapan-Orari IO-86 satellite as a back up.
CNN– "At least 222 people were killed, with hundreds more injured and missing, including members of a pop band, after a tsunami hit the coastline of west Java and Sumatra, Indonesia on Saturday.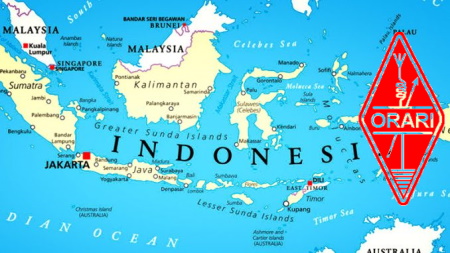 There was no warning before the waves struck the Pandeglang district, said Sutopo Purwo Nugroho, head of public relations at Indonesia's National Disaster Mitigation Agency.
The tsunami appears to have been triggered by a combination of underwater landslides caused by the eruption of the Krakatoa volcano in the Sunda Strait that lies between the islands of Java and Sumatra.
Eyewitnesses described fleeing for their lives as beachfront hotels and homes were swept away by a towering wall of water on Saturday evening.
The waves caused a stage to collapse in the Tanjung Lesung beach resort while holidaymakers and locals were watching the Indonesian pop band Seventeen.…..
Quelle: QRZNOW