07.05.2018
Etwas für die Empfangsfreunde - Der ICOM IC-R30
ICOM IC-R30 Handscanner mit analogen- und digitalen Betriebsarten. Nachfolger zum IC-R20 Funkscanner. Kein aktueller Liefertermin oder Preis bekannt. [Preis um die 1000,00 EUR]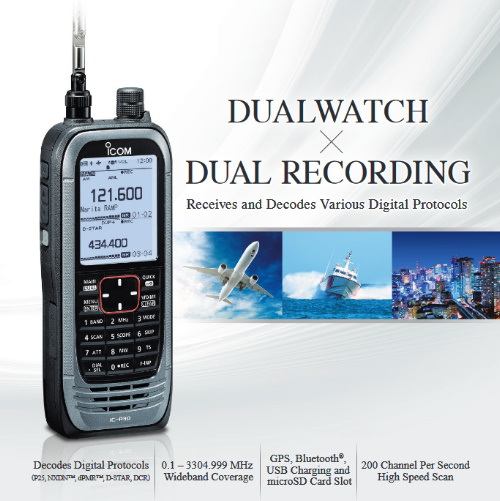 Digital and Analog Wideband Communications Receiver with Dualwatch and Dual Band Recording Functions
Decodes Digital Protocols
The IC-R30 decodes various digital protocol signals, including P25 (Phase 1), NXDN™, dPMR™, D-STAR (Digital Smart Technology for Amateur Radio) and Japanese domestic DCR (Digital Convenience Radio).
0.1–3304.999 MHz Wideband Coverage
The IC-R30 covers a wide frequency range from 0.1 to 3304.999 MHz, and receives conventional analog signals such as AM, FM, WFM, USB, LSB and CW as well as digital modes*. A ferrite bar antenna for AM broadcasts is built-in, and the earphone cable can be used as an external antenna for FM broadcasts.
* SSB, CW and digital modes: 0.1 MHz–1.3 GHz. Usable frequencies and modes differ, depending on the selected A or B band. See specifications for details.
Weitere Informationen gibt es in der PDF Broschüre zum download.