The Brand New Yaesu FTDX101D SDR HF 50MHz 70MHz
Yaesu stellt den FTDX-101D vor. Es handelt sich um einen "High Class"-Transveiver – wie es der Hersteller nennt – für Kurzwelle und 50 MHz mit 100 W. Das besondere: Das Gerät beruht auf einem SDR-Konzept mit Wasserfall-Display. Das Gerät wird durch ein großes Touchpanel und zugleich TFT-Display bedient.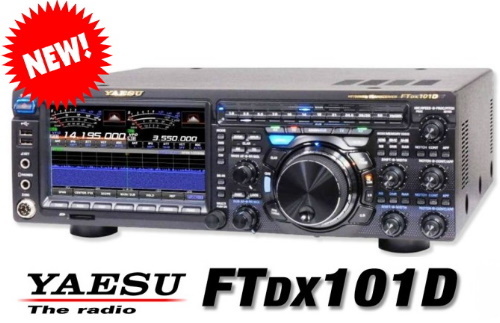 YAESU High-Class HF/ 50MHz/70MHz 100W Transceiver
SDR Technology and Waterfall Display
Large Touch Panel precision color display
Active Band Monitor enables rapid band changes with LED illumination of the operating band
Independent control of the Main and Sub Bands allows effortless operation for the serious contester needing to move quickly between the amateur bands
High-Q VC Tuning Front-End
Main tuning dial for Main and Sub Band frequency control includes an Outer Dial for clarifier, VC tuning, finectuning or custom settings.
Yaesu FTDX101D Release date is scheduled for October 2018
· Dimensions: width 420 × height 130 × depth 320 mm
· Weight: Approx 12 kg
FTDX101D External Ports
USB Port in the rear
2 USB Ports in the front
SD Card slot in the front
External DVI Display Port
2 External Speaker ports
2 Antenna Ports + 1 RX antenna
Additional RS232 CAT interface
2 RX out ports